Customer Reviews
09/08/2021
Diane S.

GB
Blocks & Board
Board is helpful in providing a flat surface. The blocks ease the pressure off the wrists and good for shoulder engagement. Great quality and service 🙂
08/30/2021
Franca D.

AT
Amazing Products
I purchased the handstand board and blocks after a bit of online research. I had doubts about the board size, I got a small one and feared it might be too small. Well, both the handstand blocks and board exceeded my expectations. I love everything about them: the size, the anti-slip surface, the design (they look so cool in wood with the black paint), the packaging they were wrapped in. By the way, the t-shirt is so cool, too. Thank you very much.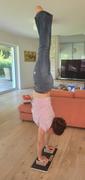 07/18/2021
Freddie W.

GB
Perfecto Mundo
I got the smallest board which is really travel size which fits my luggage really well, to get me training during my trips. The blocks are so wrist savers for a big climber like myself! The deliveries were splendid and efficient!
03/24/2021
Becky H.

United Kingdom
Amazing handstand board and blocks!
The handstand board and blocks have really helped with the progress of my handstands! Smooth surface easy to grip and rubber base to avoid slipping. They have made all the difference in my practice and love the little personalised touches.
03/23/2021
Ai-Lean C.

GB
Top quality handstand board & blocks
I cannot recommend these board and blocks highly enough. Great quality wood with a grippy textured surface to reduce slippage. I've been on my handstand journey for a year and plagued with wrist injuries, probably from practicing on a carpeted floor so this is exactly what I've been looking for. I can feel a difference already - my wrists feel more supported and my handstands are becoming steadier. Thank you for making these brilliant products! Essential for anyone working on handstands.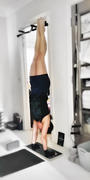 Description
Save money when you purchase the board and blocks together. 
Small – 495mm  x 235mm with rubber mat on the reverse
Medium. – 630 x 250mm with rubber mat on the reverse
Large – 700 x 330mm double sided with handstand cues on the reverse
Block Size: 135 x 85 x 55m
Baltic Birch
No assembly required
Made in the UK
Customise with your initials or logo
All our items are made to order so please allow 10 – 14 days working days before they are sent out.
The Handstand Movement Balance board is handmade using 18mm furniture grade Baltic Birch plywood painted black and finished with anti slip varnish to increase grip.
The small and medium board have a rubber matt underneath which ensures completely stability on any surface. If you have wide shoulder please check the sizing before ordering.
The front of this boards can also be customised with your initials. If you wish to add a logo simply drop us an email or message on instagram and we will organise for you.
This board will help protect your hands and wrists from any uneven or poor quality surfaces. In particular when training on concrete, carpet or squishy flooring. 
The Handstand Movement Blocks are made from furniture grade birch plywood, painted black on the face and finished with a specialist coating to increase grip, fitted with a rubber matting underneath for extra grip. Birch plywood is a hardwood that is particularly strong because it is layered like Kevlar or chainmail, minimising  the chance that a break will occur along the grain, which naturally occurs in wood. All blocks are handmade in the UK and have been tried and tested before their release date. 
Handstand Block Benefits
Many people attempt to get upside down repeatedly kicking up but failing to get any air time. The Handstand Blocks will help improve finger dexterity, increase wrist and forearm strength and assist shoulders to dynamically balance.
Lack of strength predominantly in the forearms and under conditioned hands can lead to wrist pain. The Handstand Blocks will help reduce wrist pain as your hands are elevated from the floor taking away strain that might be experienced when your hands are flat to the floor.

 

Handstand Blocks force you too 'over jump' giving you a greater range for developing your strength. This exaggerated jump increases the strength and muscle connection to make your unassisted handstands easier to execute.

 

When you add Handstand Blocks to your arsenal you give yourself the chance to improve many variations of handstands, such as handstand splits or handstand roll-overs.

 

The blocks are great for beginners (reduce pressure on wrists, whilst performing holds) but also for advanced users as you can stack blocks for more advanced training
Additional information
| | |
| --- | --- |
| Weight | 2 g |
| Dimensions | 51 × 25 × 4 cm |
| Board Size | Small Board + Blocks, Medium Board + Blocks, Large Board + Blocks |
| Front Personalisation | Personalised, Plain |